Wow, what a stunner. Numbers matching 383 car with very low miles. Seller claims it is rust free and has lived in California all its life. Love the F4 green. Just two hours left to bid with reserve not met. Will it sell? More pics plus eBay auction text after the jump!
Update: looks like it got bid up to $71,999.99 with reserve not met!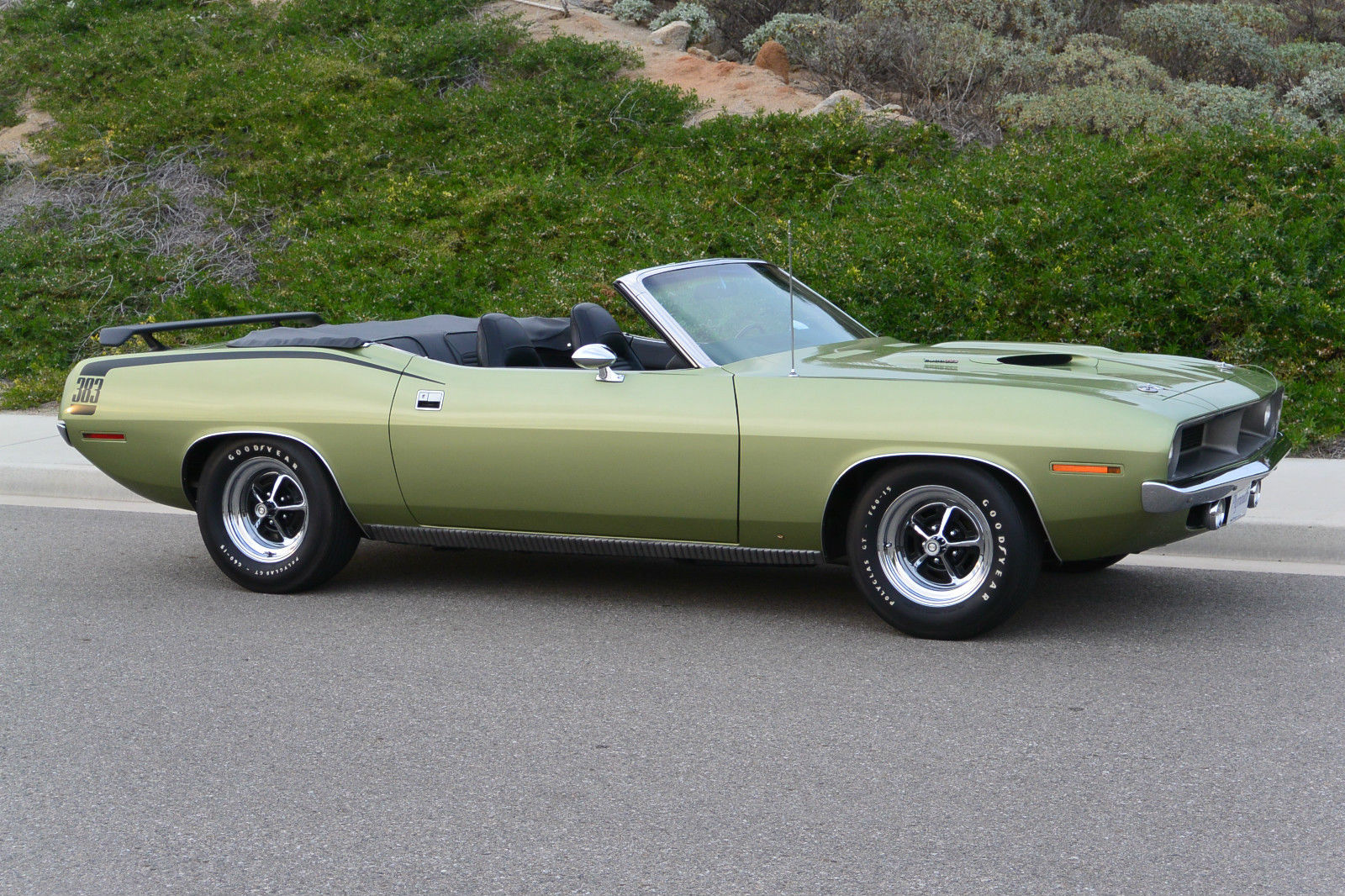 This is a true *number matching* body panels/engine/fender tag/dash tag/and door tag; BS (for Barracuda Special for the "CUDA" package) 27 (for convertible body style) N (for 383 4V 335H.P. V8) 0 (for 1970 model) B (for built at the Hamtramck plant in MI). A very clear picture of the original fender tag is below. This is a "semi survivor" in the fact that it is a SUPER LOW MILEAGE vehicle with under 50K miles that had all of its original parts removed, the perfectly RUST FREE body completely repainted to a very high standard including the under carriage to a factory stock appearance with correct bottom colors and over-spray, then its original parts re-installed. The markings you will see in the picture of the rear differential were applied back in 1970 on the assembly line and I simply protected them and painted around them to keep them original. You would be hard pressed to find another Cuda with as many of its original "born with parts" as this one. Just check out the FACTORY ORIGINAL; dash pad (flawless), front grille including the factory 1970 silver argent paint, 100% original weather stripping, nearly complete original interior, 100% original emblems, most of the original exhaust system including the factory born with tips, all the mounting hardware, all the steel brake and fuel lines, lenses, stainless steel trim, electric wiring (with exception of battery cables), windows including the windshield, window felts, seat belts, steering wheel, gas tank (yes that is the original one!) etc.. you get the idea… amazing and very original. I did have the front and rear bumpers re-chromed to a triple-plate-show-chrome that has an amazing mirror finish and the best you will ever see. I have done some stealth and tasteful performance upgrades that maintain a very stock appearance but make it a better performing and handling vehicle: Demon carb, aluminum intake, aluminum stealth heads by source 440, aluminum water pump & housing, comp roller cam & rocker set, electronic ignition, special 4 core radiator, heavy duty Hemi torsion bars and rear springs, heavy duty shocks, up-graded brakes, and more… I have put about 1K miles on it over the years since it has been painted and re-assembled. On the cosmetic side I added the rear wing, 15″ road wheels, and a "pistol grip" style shifter (I think Plymouth should have designed one like this originally as they look and function awesome). The original factory top is still on the Cuda and while the material is in good soft pliable condition and it looks presentable, it has two patches in it from where someone cut it to gain entry back in the early 70s. I do have a new top from Legendary that will come with the Cuda if someone wants to have it put on. I have just wanted to leave it as you do not see original tops ever and it shows how well preserved the car has been. I will let the pictures speak for them selves. The paint, body lines, gaps, interior, total detailing to every square inch, etc would make a $1.5 MILLION DOLLAR "factory Hemi Cuda" convertible proud. It is that nice! This Cuda has never failed to trophy at any show it has been entered and has won the top honor at every event but one. The F4 color (lime green iridescent) has been a super big hit. Everyone says it is not only one of the most beautiful colors they have seen, but VERY refreshing to see a Cuda that has not been painted a high impact color! Photos do not do this Cuda justice. I have sold several of my personal vehicles through ebay over the years and everyone has been very happy (check my 100% feedback). Since this is a relatively high dollar vehicle, I encourage you to come in person or have this vehicle inspected during the auction run time. Just email me to make arrangements. This is an opportunity to own one of the nicest, low mile, super original, REAL (not a clone), convertible BIG BLOCK Cudas to exist. I am not pressured to sell my Cuda but am willing to sell it for the right price. If you know what it would cost to get a real big block Cuda and get it into this high level of detail, you know I am not going to part with it cheap. Partial trades may be considered if you have something really cool.
Quick Facts;
Only a TOTAL of 548 real BS27 Cuda convertibles were manufactured in 1970 including all Cuda available engine sizes from the 340s up to the Hemis
Only 132 of those built came equipped with the 383-4V with automatics
This Cuda was built on 9/19/69, a very early build date and believed one of the first 25 off the assembly line
Due to the extremely early build date this Cuda is very rare as it was built without the chrome top door moldings or red bars in the grille
Hood pins, 383 hockey side tape stripe, chrome dual exhaust tips through valence, & chrome dual racing mirrors all were factory installed options
This Cuda has always been in sunny dry California and has always been RUST FREE from day one!!! Original floor boards looked like the day they were made and trunk pan is original
This Cuda was stored inside a dry-fully enclosed home garage in CA from 1975 until 2003 (nearly 30 years without seeing the light of day) by the third owner and why all the original parts as the interior stayed looking as NEW.
I am the fourth owner and have owned this Cuda for 10 years
Very low mile super original Cuda taken apart, body shell given high quality repaint, then its original parts put back on. Even the original factory body gaskets were re-used. Many items just cleaned and original finish left alone.