This is great looking 1970 Plymouth GTX with some cool modern upgrades like the big Wilwood disc brakes all around and Wheel Vintiques 17" Magnum 500 billet wheels. See more pics plus the eBay auction text after the jump!
Looks like it only got bid up to $27,100 with reserve not met.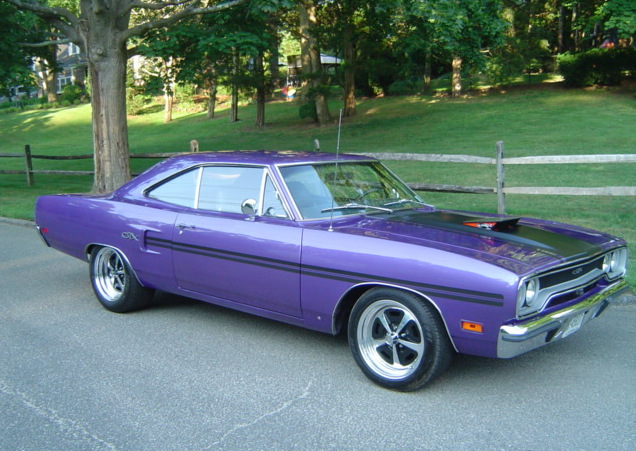 Beautiful restoration of a 1970 Plymouth GTX. Real Plumb Crazy GTX with numbers matching engine and modern upgrades/resto-mod. This GTX is a pleasure to drive with modern Alterkation/coil over front suspension, 4.10 Dana rear, Gear Vendors Overdrive, 4 wheel disc brakes with Hydro-boost braking. It has a 500 horsepower 440 that I have personally had to 140mph. It has the great looks of a musclecar with the drivability and handling of a late model sports car. It will go sideways in first or second gear if you would like it to but it is also happy to drive for Sunday Ice cream with the family. Tilt steering, HID headlights, thermostatically controlled fans, etc. This can be shown and driven.
Body and Paint
This was a 1 repaint plumb crazy car prior to its restoration in 2012. It had a new AMD Air Grabber hood, quarters and trunk floor. All other metal including the trunk lid, fenders, floors, etc were rust-free. The restoration was top-notch with polyurethane primer and PPG base/clear paint. The side stripes are reflective black and gleam a reflective silver color in certain light; this was a factory option. Bumpers were rechromed by Keystone, new mirrors, new trunk trim, wheel well trim, and outer grill chrome. The remaining stainless is excellent. The grill is perfect. I have the rear panel trim but did not install it as I liked the look without it.
Drivetrain
This car drives like a new car. It has the very popular upgrade to Mopars of the best coil over front suspension system called Alterkation by Riley Motorsports. QA-1 multi-adjustable coil over shocks with rack and pinion power steering. Hydro-Boost braking system that takes power from the power steering; no vacuum canister. This gives over 2000 lbs. of force compared to 1200 lbs. with vacuum. This car stops on a dime! 4-wheel Wilwood 12 inch disc brakes with Wilwood master cylinder and proportioning valve. Sub-frame connectors. Gear-Vendors overdrive with a Dana rear with 4.10 gears. The overdrive makes the effective ratio a 3.20. You can go through 6 gears manually or set the overdrive to automatic mode as well. Aluminum driveshaft. Reverse manual valve body. Although a 727 automatic it must be shifted manually through each gear. I have never had this before but it really makes it fun to drive!
Engine and Transmission
Strong running 440 with Eldebrock aluminum heads, roller rockers, hooker headers, 800 Eldebrock carb, and Performer RPM intake. Aluminum water pump, Be Cool radiator with thermostatic cooling fans with relays for the engine and another one for the transmission. It has a stall converter unsure what size but it does not affect the drivability but is there when you hit the gas. 2.5 inch exhaust with polished magnaflow mufflers and stainless tips. As mentioned above it is extremely fast but also drives, starts, and runs like a stock GTX.
Interior
New Legendary seat upholstery, headliner, package tray, door panels, and carpet. Tick-tock tach is unhooked and unsure if it works; I haven't tested it. XV motorsports installed tilt steering. Everything else is in excellent condition.
Wheels and Tires New $2500 Wheel Vintiques 17" Magnum 500 Billet wheels and Nitto Z rated tires. 275-50-17 in rear on 10.5 inch wide wheels and 225-50-15 in front on 8" wheels.
This will make anyone a great car to truly enjoy. This car needs nothing, just drive and enjoy.